HI THERE! IT'S A PLEASURE TO HAVE YOU TODAY! FIRST, CAN YOU INTRODUCE YOURSELF TO OUR READERS AND SHARE A BIT ABOUT WHO YOU ARE, WHERE YOU'RE FROM AND WHAT YOU DO?
Hello there! Thank you so much for this great opportunity! My name is Xinyuan Zhao, and I am a motion graphic designer, animator, and independent director. I am originally from Beijing, China, and I am currently working as a motion graphic designer in New York City.
TELL US HOW FILMMAKING STARTED FOR YOU. IS THERE A SPECIFIC TIME / EVENT THAT MADE YOU REALIZE THAT THIS IS WHAT YOU WANTED TO DO?
Sure! Because both of my parents are contemporary artists, I started reading the expert books and catalogs on their shelves when I was very young. My favorite artist at the time was Joan Miró, and I lost myself in his childlike styles, fantasizing about how they moved around with their little legs and arms and what expressions their ridiculous faces would express… Then, around the age of 7, I began to use Photoshop after my father began to teach me. I then became obsessed with computer art, learning Flash by myself and creating a slew of little stick figure characters, the most exciting aspect of which was that I could make them move! Observing and thinking about physical movement satisfied my curiosity as a child, as well as my habits throughout my childhood.
After having tasted the first passion for movement, a lot of animation works arose at the time, including Miyazaki's works like "Porco Rosso" and "Grave of the Fireflies." At the time, I was still very little and didn't know how the war deeply influenced Miyazaki's creation, but when I watched "Grave of the Fireflies," I was like, suddenly grown up. I was astounded by how cruel the war could be, and I was saddened by how many people's lives had been ruined. I'll never forget the shot where the protagonist's mother is wrapped in a bandage and looks like an object to be thrown into a pit to be buried, but she's still alive; there's a close shot showing her nose is still breathing gently under the bandage. That shot struck me as a child, and I kept thinking about it. Because animation was always a friend who taught me a lot, I believe it is a powerful tool for arousing the artist's feelings while also, reaching the audience's inner mind. That's why later, I chose to go to animation school, and now became an animator and independent director to use animation to help reach people and express feelings.

HOW DO YOU FIND INSPIRATION FOR YOUR STORIES AND CHARACTERS?
I think it's impossible to separate experience from inspiration, which is why I'm constantly eager to explore more of the world and hear more stories from around the globe. As if someone who had never scuba dived before or had only seen a few references couldn't understand a scene in which divers describe their experiences deep underwater. As an added bonus, expanding your social circle will increase your exposure to fascinating tales and individuals from which you might draw creative inspiration. Inspiration can be found in the various things happening all around us. The only thing that matters is that you can observe them as inspiration and tell the story correctly.
CAN YOU WALK US THROUGH YOUR PROCESS OF BRINGING AN ANIMATION PROJECT FROM CONCEPT TO COMPLETION?
Sure! I began by visualizing what I wanted to say, what message I was hoping to convey to the audience with this film, and what emotions I wanted them to experience. I then proceed with scene and character creation based on this overall setting. In character design, I consider the character's attitude and thoughts, which helps me better visualize the character's appearance, clothing, movement, and form. The scene should also be dependent on the emotion I wish to communicate in order to build the mood with the background color and shape. If I wanted this to be a Christmas Eve scene, for instance, I would research what people associate with Christmas Eve, such as snow, Christmas trees, gifts, family reunions, church, etc. These decisions would be based on common impressions with my own interpretation. Then, I would use the storyboard to communicate the cinematic language and plot flow. The next step is animation, followed by the addition of effects and so on.
THANKS! IT'S ALWAYS INTERESTING TO HEAR HOW EACH FILMMAKERS STARTS THEIR PROCESS AND CONTINUES. IS THERE SOMEONE WHO INSPIRED YOU ALONG THE WAY? SOMEONE THAT HELPED YOU GET YOU WHERE YOU ARE NOW?
I get an abundance of support from people, including my professors at school and my coworkers in the industry. There are helpful people at every stage; I do not wish to undervalue anyone, so I would estimate that there are many. I believe that socialization is extremely important in this field, as it allows me to realize that I am not alone and that we are all fighting for a goal — to raise our voices through film and let others see us.
WE HAD THE CHANCE TO WATCH YOUR LATEST PROJECT 'ALMOST CHRISTMAS', AND WE LOVED IT! CAN YOU TELL US A BIT MORE ABOUT THIS PROJECT?
Thank you for your support and interest in Almost Christmas. It is a fun project that required a significant amount of my time. I had a team of over 55 people working on it, and I divided them into various groups, including 2D, 3D, management, visual effects, etc. I am satisfied with this project because I received a lot of positive feedback from my audiences. I love how they interpreted my film, expressed and demonstrated love, and how many of them were moved and contemplated their church family.
That's my goal — for others to take away something from my film. Even if it's just an emotional moment, I consider that a success.
WHAT INSPIRED THIS STORYLINE?
Didactic narrative was the subject of my thesis research. Didactic narratives are typically perceived as condescending, culturally divisive, or emotionally reactive, resulting in ineffective narrative-based communication. However, the inherent interpretability of animation can make didactic narratives more accessible to audiences. My thesis focuses primarily on how to solve the problem of inefficient communication of didactic narratives through the use of animation's naturally interpretive properties. I thoroughly enjoyed conducting research on this topic, and it goes without saying that I would like to create something that reflects my findings.
Therefore, I made this film. I chose to write about a religious topic and wish to make it less condescending and more accessible to a nonreligious audience. This was quite a challenge for me, but I attempted to create a positive atmosphere for the audience before expressing my message through interpretation. I created the blind character; however, at the beginning of the story, we don't know why she's blind; we only see her walking in the cold weather and seeming to need assistance, while others celebrate Christmas inside a warm room; in this contrast, the light seems to be the aid, opening her eyes and guiding her. Then the crippled boy appears, and I want the audience to ponder why the light brings her to another person in need. By holding and building up this question, the audience will see the light disappear, the two friends descend into darkness, and then the question may reach a crescendo: why would you give them hope and then respond with desperate? In the Christian context, this is what God does: there are dark times, and you can never rely on yourself, even your brothers and sisters, but there is still hope — in the end of God's plan. The church scene then reveals that, indeed, this is the desired outcome, as everyone inside the church welcomes the two, and light emanates from the church.
This is how I interpreted the Christian message in this didactic storyline.
WHAT MESSAGES DID YOU WANT TO DELIVER THROUGH THIS WORK?
This animated short film I created (Almost Christmas) was correlated to my thesis: didactic narrative in animation. I was trying to form a story that could successfully address a topic that people would find offensive in conversation but could accept in a film. I had a choice among social, political, and religious topics, all of which are very sensitive, and when we discuss them with someone face-to-face, it is easy to arouse some disagreement, and some topics themselves already sound condescending before we have the discussion. When I finally decided to do it, I thought religion would be the most difficult topic to cover because, when you are immersed in the culture of a religion, you may feel When a film talks about it, the cliché feeling comes to mind, especially if you are part of this culture but not a believer; and on the other hand, if you are not part of this culture, it sometimes doesn't draw your attention at all, right? I am a Christian myself, so I wanted to know if I could deliver a Christian message in a positive way and make it both beautiful and fun without making it obviously offensive and dragging the audience's attention away. Then I created this story for delivering this message.
DID YOU HAVE SPECIFIC CHALLENGES WHEN MAKING THIS FILM?
Yes, dealing with the COVID-19 pandemic was difficult… At the time in 2021, my film was already in the beginning stages of production; all the 2D, 3D, and compositing groups had already begun to step into production, and then suddenly, COVID struck.
So we had to reduce the number of people because some of them could no longer do their jobs, others needed to return home to care for their families, and some of their families had already contracted COVID. I had to let them go and devise a more efficient plan to continue working on the film; fortunately, my core team remained to work with me, and we were still able to work on it because we had a whole tracking system on Trello and also constantly met remotely. The good news is that we gained valuable experience working remotely on a film, and since remote work has become the norm in many industries, we saw this challenge as an opportunity to embrace the new situation, which is a future benefit.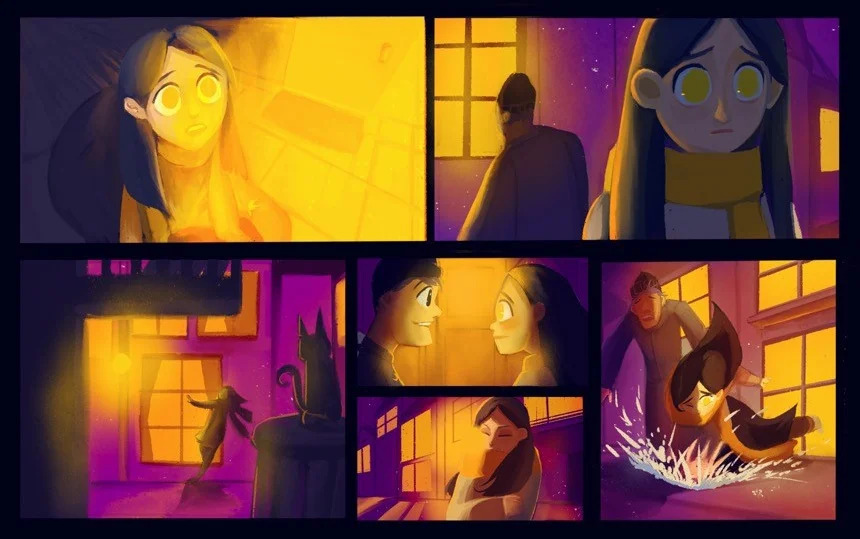 CAN YOU TALK ABOUT A FAVORITE ANIMATION PROJECT YOU'VE WORKED ON AND WHAT MADE IT SPECIAL TO YOU?
I created an animated background for "Two Kids Who Blow Stuff Up" show in Aurora Theater located in Atlanta. It is written by the renowned author Carla Ching. The first time I read the script, I fell in love with the story. It is a tragic, yet hopeful, tale. Vivi Thai and Jack Ha performed the show, and their performance was sensational! I was ecstatic to take part as an animator in expressing emotion and creating an atmosphere for the audience through my works. I did the 360° animation on the background projectors, and they reflected the movement of the background in an illustration style; sometimes they are very abstract. The most impressive scene that I animated was to create a cup of wine that begins as normal wine, then flows out and transforms into a dark liquid that spreads all over the background like smooches but is extremely untidy, and in the end, the cup shattered, symbolizing how the relationship between the two protagonists falls into an irretrievable pit. I absolutely loved the project overall, and it greatly inspired me about love and friendship that affected by different modes of thought and needs.
WHAT ADVICE WOULD YOU GIVE TO ASPIRING INDEPENDENT ANIMATORS?
Always locate references before beginning a project.
Technical expertise can be the most potent of weapons.
Make more friends and expand your professional network.
When you have an idea, record it immediately.
Maintain a balanced mindset; do not be overly proud or arrogant.
WHAT CAN WE WISH YOU FOR YOUR FUTURE IN FILMMAKING? DO YOU HAVE EXCITING UPCOMING PROJECTS?
It's still in concept! But yes, I am working on an independent personal film right now; it is a story about campus bullying. I was kind of involved in this thing when I was in Chinese middle school, so I would like to express it through my film, hoping that this kind of issue will be given more attention so that children and teenagers can experience fewer problems in the future.
FINALLY, IF YOU HAD ONE ANIMATION MOVIE TO RECOMMEND US TO WATCH, WHICH ONE WOULD IT BE?
"La Maison en Petits Cubes", it's my favorite animated short. I don't want to talk more about it, just recommend you to watch it, I believe that true art speaks for itself.
ABOUT Xinyuan "Sherry" Zhao
Xinyuan "Sherry" Zhao grew up in Beijing, China, and moved to the Newcastle area in the UK for her undergraduate study in animation school. Upon acquiring the degree of Bachelor of Arts (BA), she moved to Atlanta, Georgia (USA) to extend her study in animation and graduated with a Master of Fine Arts (MFA) in 2021. Sherry is currently living in New York State and working as a concept artist and animator. While in the meantime she keeps working on independent animated short films. Her main career goal is to direct animated short films in a major production.